Hey, did you know it is DECEMBER?? If you're like all of us at Max, this one came in like a wrecking ball, as did the whole year if we're being real. Nonetheless, just because 2020 was a global disaster in every sense of the word, the festive season is upon us and we would like to celebrate with y'all.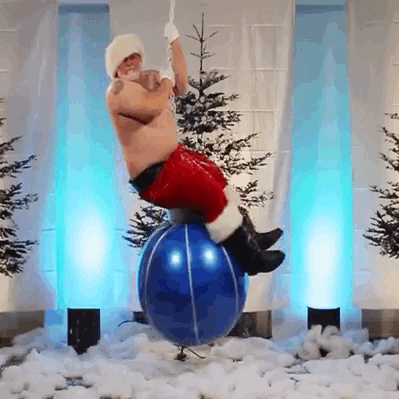 We've collected together a couple of toy scenarios and play gear to suit the mood and vibe of your festive month (that's how the young folk use those words right?). And don't forget to check out our flashy new website for our full X-mas Catalogue.
Gold Fingers
You see them, a sun goddess standing strong in your doorway – other worldly and powerful – a gold armoured sub/dom role player of your dreams and nightmares...
I'll be honest, creative writing isn't exactly my forté, but poorly verbalised metallic role-play aside, if you like gold and you like a bit of kinky fun then this set of glistening delights is for you.
Vegan friendly Regalia have made a collection of harnesses, belts, cuffs, leashes, and crops to really bring the glam to your bedroom (boudoir, dungeon, play party, queer festival, etc). Made consciously and fashionably, we're obsessed with this set. Coming in two adjustable sizes, these pieces are a welcomed alternative to the black and silver of traditional kink gear. We've also paired this collection with a Maison Close black and gold crop, and silky black rope from Fraulein Kink with gold detailing, just because it's delicious.
The Ol' Switcheroo
So this cheeky combo was put together with an 'anything goes' sentiment in mind. A little bit kinky? With a lashing of Oxford St shenanigans? Perhaps a tipple of Treat-Yourself Tuesday? Or maybe a couple of pals decided to get the plugs out and have some back door bonding time one Friday night? If we're being honest, it's all of the above! And what's better than a play kit made for all occasions, aye? Be party ready with these bedazzling Andrew Christian briefs, and never run out of play time with some hybrid lubricant to go with your shiny metal wonders the likes of Njoy, Rosebuds, and Doxy. Finally, set the mood  with a spicy Wabi Sabi candle by Nocturna (please note this candle is not for body-play). Go on and get down with your bad self and have a merry little Christmas with all the metallic and metal gear a babe like you could ask for.
Why vibe later when you could vibe now?
Could you hazard a guess that this little collection is about vibrators? Cos you would be guessing right friendos! It would be foolish for us NOT to include a section about one of our favourite and most sought after areas of play, fondly known as Vibe Nation (may be the first time anyone has called it that...). Here are our Chrissy pick of the bunch, and dang - WHAT A bunch of hotties they all are!
It is wild how many Satisfyer Pro 2's we sold over the past couple of months, and now we have the Pro 2+ in store and online we're expecting it to go off even more. A cheeky little toy that packs a double punch of air pulsation (feels like suction, only safer) PLUS vibration that can be activated at the same time, or individually. Hell to the yeah.
Next up is The Dame Arc - a beautiful internal toy, that is as aesthetically stunning as it is fantastic for exploring G-Spot stimulation. Plus a company owned and founded by two women, and we fully endorse that.
Le Wand, as one of more luxe brands, have brought out the Le Wand Point, coming in both black and pink, this deep rumbly pebble style toy holds its own both in weight, power, and the mix of metal and silky silicone. 
One of our oldie goldies is We-Vibe, never ceasing to disappoint and continually improving their toys, technology, and usability. The Nova 2 is an upgrade on the original Nova, featuring a flexible internal shaft to really hit that sweet spot, and a tickler that moves and flexes with your body - ie you never lose clitoral contact. As they put it 'constant contact, non-stop pleasure', and who isn't here for some of that, hey? 
Last but definitely not least is our pocket pal the Palm Power Pocket. This little cutie is a miniature version of the larger Palm Power family, and like... need we say more? It's miniature. That's god damn adorable. Better still it has some solid grunt to it, comes with a cute and discreet pouch, it's rechargeable, and sitting on a very tasty price point of $55 dollarydoos. Don't mind if we dollarydo. 
Back door play, it's the Australian way 
G'day champs! We have some stellar back door toys lined up for you, for a mate, for your loved ones, or for a 'just in case' night out that turns to a bit of a reverse romp. So chuck a shrimp on that barbie, a couple of brewskies in the chilly bin, and take a geez at our chosen family of back door mates. 
B-Vibe, great brand, great ethos, and greater still toy for universal back door play (ie good for any anatomy). Ranging in sizes, shapes, weights, and vibrations, our pick is the Rimming Petite - slightly more accessible in size, but still with those 'rimming' beads that swirl and twirl on the shaft of the toy for... well you can probably guess what for.
A brand spanking new member of the crew is the Dorcel Deep Expand which - now get your peepers around this - can, with the push of a button, EXPAND in SIZE to your girthing pleasure. Also sports an easy to grip handle for you or a back door bud to manoeuvre with ease. We've always loved Dorcel products but this one is definitely an 8/8, great job mate.
Thought Doxy just made whopping great power tool vibrators? Think again our friends! They have also designed some beautiful, sleek, mascy (but don't think male specific) metal plugs that really get our motors revving. We recommend any kind of lubricant with metal toys, but definitely use some... it'll have that slip and slide cranking all summer long. 
And just as a cheeky point of difference, for those of us with shafts the new Tenga Crysta range could be the reason you say no to that last glass of champers, say hoo-roo to ya mates, and go home early for a little christmas party of your own. Incredibly malleable toy, with firm 'shapes' scattered throughout, you won't have experienced a masturbator quite like this before. You can thank us later.
50 Shades of Silver
Although not a massive fan of the Fifty Shades trilogy, we are massive fans of silver, of some sensual play, and a bit of light BDSM to boot. The range of silver  sensation play from the 50 Shades collection of toys include a soft short vegan flogger, a small but firm paddle, and a gorgeous feather tickler. Matched with some sequinned nipple tassels for that razzle-dazzle, and one of the ethically sourced essential massage oils by Sutil, this could be the perfect way to ring in the new year with a loved one (or two, or three...).
Gender-neutral is the New Black
Down at the Max Black ranch we believe toys are for everyone, for every body, and shouldn't be categorised by gender, sex, or identity. So here we have a tasteful tipple of toys to be used by all body types and preferences.
First add some yee-haw to your play with a pair of RodeoH harnesses (comfortable and practical), add the plush and very rideable Cush by Tantus and you've got yourself a good time, my friends! To add some vibration to your station, we have the Le Wand Petite Rechargeable Massager for, huh hem, 'massages' on the go, and the wearable We-Vibe Chorus with a squeezable remote.
Hot tip: Wear the Chorus behind your RodeoH harness - more bang for ya buck during playtime!
And finally, we present one of the first GENDER NEUTRAL SEXY BOARD GAMES!!! Our Sex Game is designed to define sex as sex, and not by gender or anatomy, and we are HERE for it! This, plus a bunch of toys and play mates, will give free rein to your fantasies, and as you may have noticed, this moi likes to include a bit of Cowboy action, so feel free to go wild.
Whelp, it's time to swap, spit, and hit the road. Have a great festive season, buckos! And remember, we're open 10am to midnight until Christmas Eve when we close 5pm, then back to business Boxing Day. Don't forget we're online 24/7!